The Virginia Beach Resort area is a never ending playground for kids, parents and those who just want to be 'kids for a day'. There is a world of fun on and off the beach. Here are just a few attractions you may want to visit.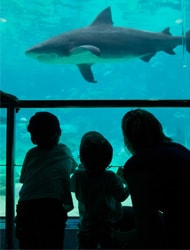 Virginia Aquarium And Marine Science Museum
This nationally-ranked museum has 800,000 gallons of aquariums, various wild animal habitats, more than 300 hands-on exhibits, a nature trail, an aviary and an IMAX theater. Seasonal whale watching, Dolphin and Creek tours are available, as well as a variety of special and holiday events, so be sure to check what may be going on before you visit. Call 757 425-FISH for information, admissions, tour schedules, and IMAX screenings, or visit the website.
With thirteen water slides, a million-gallon wave pool and kiddy pools, Ocean Breeze offers family-fun sized for everyone. Go over Jungle Falls, ride the Matt Slides, Bamboo and Coconut Shoots, climb the heights of the Hurricane or chute down Largo Loop for some real excitement. For a more relaxing visit, soak in the wave pool, or take the kiddies to Buccaneer Bay and the Little Amazon play areas. A seasonal attraction, check for opening dates and hours and admissions information at 757 422-4444 or visit the website.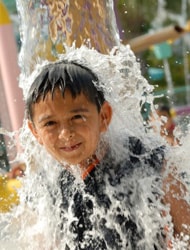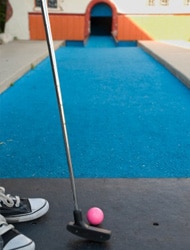 Virginia Beach is home to a number of themed miniature golf courses, from Jungles to Pirates and more. These family friendly 18 hole courses are fun for all ages, and challenging too. Miniature Golf is a seasonal activity from March through November, weather permitting, so you should check on availability and admission before planning your visit. You can call 757 422-9822 or visit the website.
Motor World is the place to race in Virginia Beach. With 11 go-kart tracks, and 16 different styles of Go-Karts to choose from, you can choose a variety of tracks for racing adventure for all ages. There is a featured Race Zone, Thrill Zone, Kids Zone, Strike Zone and Game Zone, and new to Motor World, the Adult Speed Track; a European-style racetrack that is guaranteed to get your adrenaline going! Open year-round is the Splat Zone, 2 paintball fields with inflatable bunkers, a shooting range and pro shop. Be sure to check out the heart-pounding Skycoaster, Gravity Storm, Bumper Boats, Kiddie & Thrill Rides and the unique and challenging Shipwreck Mini-Golf. For admissions and hours call 757 422-6419 or visit the website.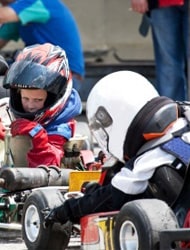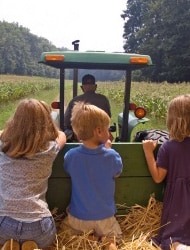 Hunt Club Farm is a 23 acre family-owned farm in the heart of Virginia Beach – just a few miles from the Virginia Beach Oceanfront. Hunt Club offers Agricultural based education and entertainment including a petting zoo, farm tours, pony rides, carnival rides and lots of seasonal activities. The fall farm festivals, Halloween haunted house, Harvest Fair, and Farmer's Market are special treats for young and old. Whether you're looking for something different to do with your kids or a seasonal farm festival- Hunt Club Farm is a delight. For more information, admissions and hours call 757 427-9520 or visit their website.
From Africa to Virginia's own backyard, the Virginia Zoo offers family fun, education and excitement for everyone. Open year round, the Zoo is home to 350 animals on 53 acres of beautifully landscaped grounds and animal habitats. Meet elephants, lions, kangaroos, meerkats and more. Get up close with prairie dogs in their interactive habitat where viewing bubbles allow you to get personal with these entertaining creatures. For admissions, hours and more information call 757 441-2374 or visit their website.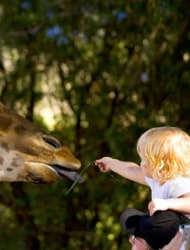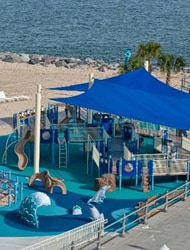 JT's Grommet Island Beach Park & Playground For Every "Body"
The nation's first wheelchair accessible beach front park and playground, JT's Grommet Island Park was designed to make the beach and oceanfront available to all. Featuring picnic and play areas designed for wheelchair access and specially equipped beach wheelchairs, the park is located at 100 2nd Street. For more information visit their website.
SUMMER HOUSE APARTMENTS – RESORT LIVING AT THE OCEANFRONT
50,000 square feet of retail stores, restaurants, outdoor cafes, boutiques just one block off the famous Virginia Beach Boardwalk and anchoring the affluent Virginia Beach North End.