Maybe recreation is not your game. For a more leisurely day consider visiting one or more of these museums, galleries and exhibits. Virginia Beach offers something for every interest, from historic homes, to aviation and maritime museums.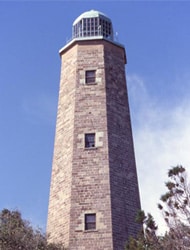 Cape Henry Lighthouse was the first public building authorized by the new federal government in 1789, and the first lighthouse on the Chesapeake Bay. This lighthouse marked the entrance to the Chesapeake Bay from 1791 until it was replaced by the new lighthouse in 1881. The old lighthouse is open for visitors to climb and gain a view of Virginia Beach and the Chesapeake Bay. Call 757 422-9421 or visit the website.
The Old Coast Guard Station itself is the most important exhibit in the museum's collection. Built in 1903, the Life-Saving Station houses a collection of 1,800 artifacts and over 1,000 photographic images of the United States Life-Saving and Coast Guard Services, and the resort community of Virginia Beach. There is also an on-site research library containing books, papers and oral histories. The museum overlooks the Atlantic Ocean along the Boardwalk at 24th Street and is a Virginia Historic Landmark as well as on the National Register of Historic Places. For hours and information call 757 422-1587 or visit the website.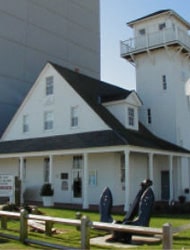 MOCA – Virginia Museum Of Contemporary Art
The Virginia Museum of Contemporary Art (MOCA) is a non-profit institution which exists to foster awareness, exploration and understanding of significant art of our time. Through excellence and diversity in our exhibitions and educational programming, MOCA stimulates individual thinking and dialogue throughout the community.
Regularly changing exhibitions feature painting, sculpture, photography, glass, video and other visual media from internationally acclaimed artists as well as artists of national and regional renown. By balancing its four primary activities—gallery exhibitions, studio art classes, educational outreach programs and outdoor art shows—MOCA seeks to involve a diverse regional public in the rich and active language of contemporary visual art. By operating at a national standard, MOCA received accreditation from the American Association of Museums in 2010.
Ferry plantation got its name in 1642 when the Ferry Boat Service ran the Lynnhaven waterway. The Ferry Landing was chosen because the land had already been cleared by a native Indian tribe in the 1500's. The second Princess Anne court house was built on the Plantation near the present location of Old Donation Church , this was the courthouse that held part of the trial of Grace Sherwood, Virginia's only convicted witch who was tried by water. The third Princess Anne Courthouse was built in 1735 of brick to replace the timber courthouse. The Walke family which owned the property at that time built the Manor house which burned to the ground in 1828. Two years later in 1830 George and Elizabeth (Walke ) MacIntosh rebuilt the manor house that stands on the Plantation today. For more information on hours and admission call 757 473-5182 or visit the website.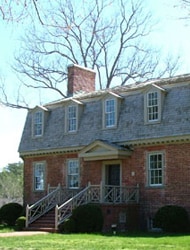 This 18th-century plantation home contains period furnishings, gardens and costumed guides. It is located at 3131 Va. Beach Blvd. Call 757 431-4000 or visit the website.
The Military Aviation Museum is home to one of the largest private collections of World War II and Korean War fighters, bombers, trainers and seaplanes. Many aircraft have been fully restored to their World War II condition. The Fighter Factory is the aircraft recovery and restoration component of the museum dedicated to the preservation of historical aircraft before they are lost forever. Some aircraft are in the process of restoration and many World War II planes have yet to be discovered! For more information call 757-721-PROP or visit the website.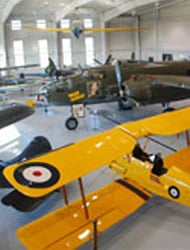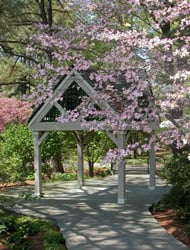 Norfolk Botanical Gardens
The Norfolk Botanical Garden has grown from a 155-acre WPA project garden to one filled with thousands of plants and more than thirty themed gardens including seasonal, year round and children's gardens. Some gardens focus on a single plant (camellias, hydrangeas, roses), while others look at a plant from a specific region, like Japan and Virginia), Learn more about the themed gardens, plants and horticulture and get admissions information by calling 757 441-5830 or visit their website.
Adam Thoroughgood arrived in Virginia in 1621 as an indentured servant and in 1636 was granted a land parcel. The house dates circa 1680 and was probably built by one of his grandsons, although recent archaeology suggests it may have been built as late as 1720. It is one of the oldest brick houses from our early Colonial period and provides insight into the lifestyle of the gentry in Princess Anne County. Restored in 1957, today it is a museum and is open to the public. For more information and hours, call 757 431-4000 or visit the website.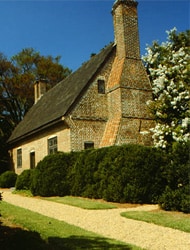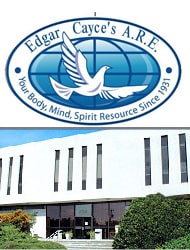 Association For Research & Enlightenment
Headquarters of Edgar Cayce's research, the best-documented psychic of modern times, ARE offers classes on holistic health and spirituality, information about Cayce and his principles, research resources, an on premise spa and health center and gift shop. ARE is located on 67th St at the Virginia Beach oceanfront. For more information call 757 428-3588 or visit the website.
The oldest remaining structure on the Virginia Beach oceanfront, Dewitt Cottage was built in 1895 by Bernard Peabody Holland, who called it "The Brick House." B.P. served two terms as mayor of Virginia Beach, from 1906 to 1908 as the newly-incorporated town's first mayor, and again from 1913 to 1916. Purchased in 1909 by Cornelius deWitt, the cottage was expanded in 1917 to twenty-two rooms and remained in the deWitt family until 1988. With fourteen-inch-thick brick walls, twenty-two rooms, a basement and an attic, this house is an example of a typical early beach house. It is now home to the Atlantic Wildfowl Heritage Museum and the Back Bay Wildfowl Guild, Inc. (a non-profit organization). For more information call 757 437-8432 or visit the website.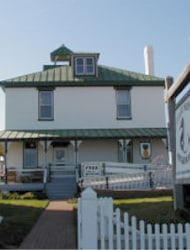 SUMMER HOUSE APARTMENTS – RESORT LIVING AT THE OCEANFRONT
50,000 square feet of retail stores, restaurants, outdoor cafes, boutiques just one block off the famous Virginia Beach Boardwalk and anchoring the affluent Virginia Beach North End.