If you're still at a loss for something to do, here are a few dozen suggestions you can choose from to make your visit to Virginia Beach all that you wished.
Each winter, for more than a decade, humpback whales have migrated along the shores of Virginia Beach. From January through March 15, visitors can embark on a 2 – 2½ hour Virginia Aquarium & Marine Science Center whale watching boat trip, narrated by a trained educator. What surfaces may be just as powerful and amazing as the whales – a little family togetherness. Call 1-866-59-Whale for more information.
Virginia Beach Vacation Guide
Virginia Beach Vacation Guide is the sole discount ticket outlet on the oceanfront! Their trained professionals have an ear for the secret pulse of the resort area, and indeed all of Hampton Roads. If you're planning to explore more than just the beach, or even if you're not, make this an early stop. It can pay off well.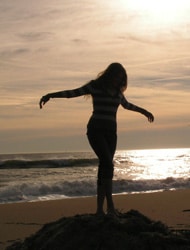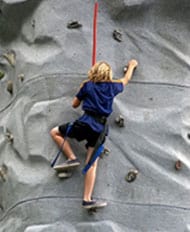 When you think of Virginia Beach you probably don't think of mountains. Well we may not have any peaks to climb but that doesn't stop us from rock climbing. Book by the hour, with or without instruction. Special facilities for kids and groups are available as are a rappelling tower, free climbing boulders and more. Call 757 499-8347 for more information or visit the website.
Rent a 1-, 2- or 3-person Waverunner or a Jet Ski for a tour of the oceanfront, Rudee Inlet or nearby waterways. It's a great family adventure and a whole lot of fun for boaters of any age. You can even arrange a dolphin tour by Jet Ski or just explore on your own. There's a lot of beachfront to discover. Call 757 428-4614 or visit the website for reservations and information.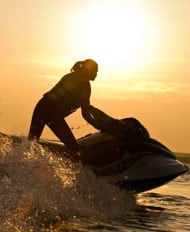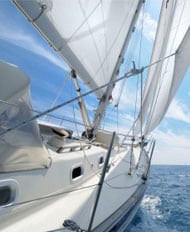 Iggy Biggy is a privately owned luxury sailing yacht you can charter for a 2 hour tour of the beachfront or a longer trip down the coast. You can take the helm, or sit back and relax; catch a tan on the foredeck or take it all in from the aft deck's private seating area. Viewing Virginia Beach's resort strip and luxury homes from the water adds a new perspective. You might get an up close glimpse of marine life as you sail from Rudee Inlet at the southern end of the Virginia Beach resort strip to the historic point where the Atlantic Ocean meets the Chesapeake Bay. For reservations or more information, call 757-358-5800 or visit the website.
Glide along Broad Bay, a tributary of the Chesapeake Bay's protected waterways, aboard the newest charter luxury yacht, Virginia's Jewel. Enjoy an afternoon or evening dinner cruise and take in a panoramic route that is second to none…through magnificent Broad Bay, past First Landing State Park, Cavalier Golf and Yacht Club, marinas, waterfowl and majestic skies. For more information call 757-425-6688 or visit their website.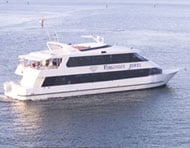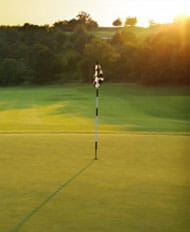 Virginia Beach is home to public and private courses that will challenge even the most avid golfer. Choose from a dozen public and municipal courses and a large number of private courses all within a short distance from the resort area.
The Owl Creek Municipal Tennis Center, located conveniently near the resort area, provides some of the best tennis activities in Virginia Beach and the entire Tidewater area. From tournaments, round robins and socials, they are sure to have something for you to enjoy. Their USPTA and PTR certified tennis professionals can provide private or group instruction. In addition, Owl Creek offers many ongoing tennis classes for all ages and ability levels. For more information or reservations call 757.385.2695 or visit their website.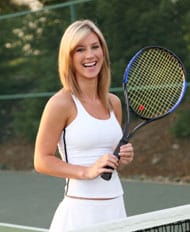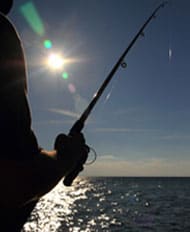 Virginia Beach offers some of the best game and sport fishing adventure on the Atlantic coast. You can charter your own fishing boat or join one of several party boats and fish for Striped Bass (or Rockfish as the locals call it), Flounder, Bluefish, White Marlin, Tuna and other big game fish. Rudee Inlet and Lynnhaven Piers have fleets of fishing and charter boats available for half day or full day trips. Call 757-491-8000 or visit our website for more information and availability:
You can rent a beach buggy, bicycle, or tandem from dozens of boardwalk locations and ride on safe boardwalk bike paths or on the many biking trails in our state park and other nearby resort locations. Big enough for a family, a buggy ride is a perfect way to spend a lazy afternoon or evening while catching the boardwalk sights. Visit our website or take a stroll down the boardwalk where you'll find plenty of places to rent a bike, buggy or tandem.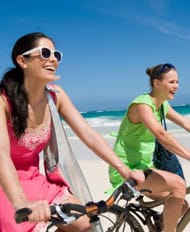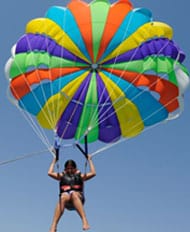 There's no more exciting way to see the full expanse of the Virginia Beach oceanfront than from a parachute suspended high above the shoreline. Go alone or take a tandem ride behind a powerful motor launch that will tow you up to a safe height and give you a thrill of a lifetime. Reservations can be made at Rudee Inlet most days during the season but be sure to plan plenty of time to enjoy your trip. Call 757-422-9600 for information and reservations.
Many visitors may not realize that the Virginia Beach resort area includes some of the most outstanding natural habitats in Virginia. For those who enjoy birding, Virginia Beach offers exceptional opportunities all year round, with birds that range from huge northern Gannets, Herons, Loons, Ospreys and Eagles to tiny warblers that migrate through in spring and fall.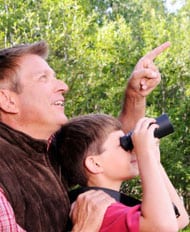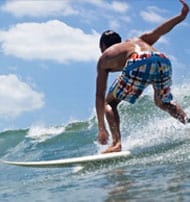 Virginia Beach is the home of the East Coast Surfing Championships. You won't find any better or more consistent surf action anywhere else on the East Coast. Bring your own gear or rent surfboards and other equipment. New to the sport? You can take surf lessons with experienced instructors in a fun, relaxed atmosphere almost every day. Call 757-721-6210 for scheduling information or visit Surf and Adventure's website for more information.
Dolphin tours are a popular and exciting summer trip. Dolphins are migratory mammals that begin arriving in the Virginia Beach area in March and April and stay through to October and November. They reach their greatest concentrations in July, August and September. Words cannot describe the sight of seeing these curious and friendly creatures up close. Tours launch from the north end of the Virginia Beach Oceanfront, just outside Fort Story Army Base and paddle along the coast to where the Chesapeake Bay meets the Atlantic Ocean (a favorite dolphin playground). Call 757.961.0447 for more information.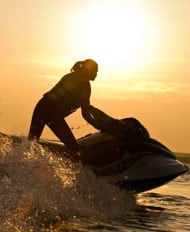 SUMMER HOUSE APARTMENTS – RESORT LIVING AT THE OCEANFRONT
50,000 square feet of retail stores, restaurants, outdoor cafes, boutiques just one block off the famous Virginia Beach Boardwalk and anchoring the affluent Virginia Beach North End.